Your ears will thank you for wearing "The Mask" from Halo Headband!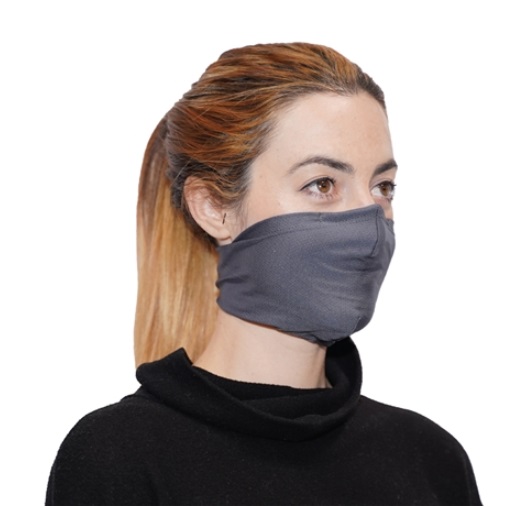 Have you seen our special Face Covering designed with comfort in mind? 
It has been designed for physically active people like runners, hikers or cyclists, but will please anyone in everyday use.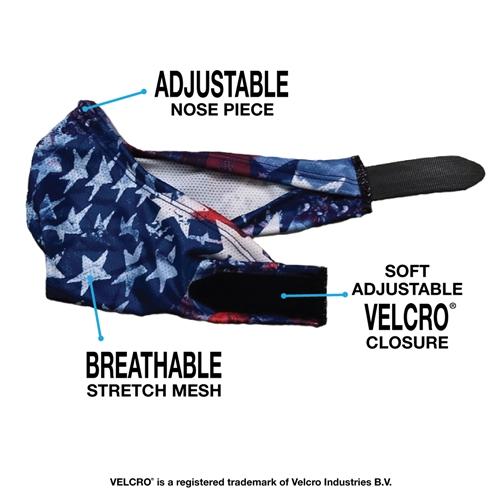 Some of the features of "The Mask":
Micro-mesh 4-way Stretch Antimicrobial breathable fabric

Wicks moisture
Soft adjustable Velcro® in back, does not pull in your hair

Adjustable custom fit nose piece holds the mask in place during any activity

Odor resistant
No ear discomfort or irritation
Washable and reusable
Will not lose shape, form or stretch out

Will not fog up your glasses

Does not interfere with hearing aids and headphones.

One size fits both men and women

One year warranty against manufacturer defects
For non-medical use

"I bought one of these masks after seeing a review in a magazine for runners. It is a wonderful product! The most comfortable mask I've used. I frequently wear it around my neck, then pull it up over my mouth and nose when I am near someone else. The Halo mask does not catch on my hearing aids, whereas the those with the loops that go behind my ears always catch on my hearing aids, and pull the aids off.  I have also bought the Halo mask as gifts for friends."
Stan

"The Best Facemask that I have run in to date. Will not fog up your glasses, Breathable and easy to put on and take off. Stays put with the bendable nose piece which is not  bulky does not rub nose raw. How good is this Halo Facemask: I bought 2 now and I brought 6 more and have begun to tell my running friends about it.  Update: tried a few others brands they would not stay up after getting wet with sweat kept slipping off my nose. These stay put and when I was running.  Those other ones I kept wishing I had my Halo Face Mask on instead.  I have 14 Halo Facemasks for 2 weeks of running."
Ricky Bobe Casados

"I needed a mask so I could comply with local face covering requirements, but it needed to be comfortable, breathable, not fog my glasses, and hook behind my head. The Halo Mask does all of those things in spades.
I've tried many masks and they all had a thing or two about them that made them unbearable to wear, even for short periods of time. Now that I've found the perfect mask, I'm going to order another for work."
Greg M. 
We have less than 100 masks available and not sure if there will be more available any time soon.
Get "The Mask" now!
The Face Mask by Halo is a non-medical grade face covering and is not intended to be used as a medical mask or as a replacement for N95 respirators as effective measures to prevent disease, illness or the spread of viruses.